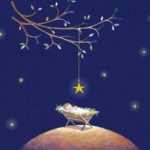 And there were in the same country shepherds abiding in the field, keeping watch over their flock by night.
And, lo, the angel of the Lord came upon them, and the glory of the Lord shone round about them: and they were sore afraid.
And the angel said unto them, Fear not: for, behold, I bring you good tidings of great joy, which shall be to all people.
For unto you is born this day in the city of David a Savior, which is Christ the Lord.
And this shall be a sign unto you; You shall find the babe wrapped in swaddling clothes, lying in a manger.
And suddenly there was with the angel a multitude of the heavenly host praising God, and saying,
Glory to God in the highest, and on earth peace, good will toward men. Luke 2.8-14.
.. Then the shepherds went quickly and found Mary, and Joseph, and the Babe lying in a manger. Luke 2.15-16
Jesus is the reason for the season we celebrate now. May Jesus fill your homes and hearts with the truth that He was born so many years ago to live, die, and raise from the dead so you and I can receive the greatest gift- God with us. The gift of real life here on Earth and eternal life and knowing Him. All our answered prayers, deliverance from struggles, happiness, peace, having our names written in the Book of Life in heaven and more.
Merry Christmas. God Bless us everyone.
Share your stories of Christmas with us.