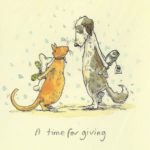 Dad I like to watch world news with David Muir each evening. I have never been a news buff because all the news seems like 'bad' news and never 'good' news, but David Muir always has something sweet at the end of his news.
During Halloween, he had a story about a little boy trick-or-treating. The young boy came to a home with a pumpkin basket on the porch; but there was no more candy in the pumpkin. The little boy informed his mom of the situation. It seemed he had a problem. At first, I wondered what he would do. Then, to my surprise – to fix it, he proceeded to take candy from his bag and put it into the empty pumpkin basket on the porch. Problem solved – the pumpkin basket was no longer empty. The sweetest thing is that he did not know anyone was watching, but this was all captured on the home security camera and that is how all of us in news land were able to see the kindness, sweetness, and innocence of this young man. I was touched once again that good things do happen every day.
I am called to be like a child. Even though Halloween is passed, the Advent is here. The time of year that the year is ending and I am celebrating the birth of the Savior. It is a time when I can turn my heart to how I can fill up someone's basket that is empty. God promises that it is impossible to out-give Him.
I am first reminded in James 1.17 that, "every good gift and every perfect gift is from above, and comes down from the Father of lights.." Our Heavenly Father gives great gifts.
My motive, however, should be pure – just for the sake of sharing with others less fortunate, however, God's Word promises – "Give, and [gifts] will be given to you; good measure, pressed down, shaken together, and running over, will they pour into [the pouch formed by] the bosom [of your robe and used as a bag]. For with the measure you deal out [with the measure you use when you confer benefits on others], it will be measured back to you." (Luke 6.38) I believe His promise of 'pressed down, shaken together, and running over' is to me and the ones I love and bless.
Genesis 9.3 lets me know that "(God) give(s) … everything." And Proverbs 28.27 tells me, "He who gives to the poor will not want." God's Word is clear – He is a giver and I, as His child am be be a giver too – with the spirit that shows how grateful I am that God has given to me.
Luke 12.32 warms my heart with the words, "Fear not, little flock; for it is your Father's good pleasure to give you the kingdom." The Kingdom is Him and His salvation, goodness, faithfulness, provision, answers to prayer, and everything I have here and in my heart.
God Bless you this Season. I hope you find someone to bless.
Share your stories with us.