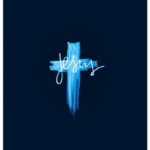 Sometimes, when I have been doing something for a very long time, I get a little stagnant. I hate to admit it's easy for me to just fly through something (like my time with God) without really noticing precious detail and I take things for granted.
There are times, sometimes more than others, it hits me deeply to think about what Jesus did for me. I experience so much strife at times trying to get things done, fighting with family, stressed about a conflict at work, wondering what will happen next in life, will everything work out, will the dog's surgery go well, will I make it thru the week? It's easy for my mind to just sit on that hamster wheel and go round and round. God has such a sweet and gentle way of getting me off that hamster wheel and taking time for cherished moments with Him.
During my devotions recently, I read Ephesians 2. At the beginning of the chapter, I found (for probably the 200th time or more) a list of all the things God has done for me – "and you [He made alive], when you were dead …. God—so rich is He in His mercy! Because of and in order to satisfy the great and wonderful and intense love with which He loved us.. He made us alive together in fellowship and in union with Christ; [He gave us the very life of Christ Himself, the same new life with which He quickened Him, for] it is by grace (His favor and mercy which you did not deserve) that you are saved (delivered from judgment and made partakers of Christ's salvation).  And He raised us up together with Him and made us sit down together [giving us  (joint seating with Him] in the heavenly sphere [by virtue of our being] in Christ Jesus (the Messiah, the Anointed One)." 
That's not all He did. He restored me, healed me, makes me His child, gives me the victory, leads me into triumph, makes me more than a conqueror, forgives me everything, provides for me, protects me, directs my every step, and everything more.
Why would He do all these things for me? The astounding and humbling answer comes in verse 7 of Ephesians 2 – "He did this that He might clearly demonstrate through the ages to come the immeasurable (limitless, surpassing) riches of His free grace (His unmerited favor) in His kindness and goodness of heart toward us in Christ Jesus."
He did all these things so that He might show me His grace and His kindness to me. His desire is to shower me with love and grace. How undeserving I am to belong to a God Who is so selflessly gracious to me, but I am truly grateful. It is amazing that the God of the Universe – Who commands waves and watches sparrows and has so much to consider each day, thinks of us and wants to be personal with us.
Share your stories with us.