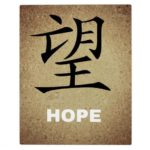 Have you ever had someone say, "I hope so"? and they didn't mean to, but they said it as if it was last thing in the world they thought would ever happen, but 'they are hoping.'
The Bible tells us there is 'faith, hope, and love…' (1 Corinthians 13). There is it – HOPE – along with the other giants of the Bible – LOVE and FAITH. Seems to me that 'hope' gets short changed – hope seems almost flimsy compared to love and faith.
I think hope is one of the most essential things about being human. As a matter of fact, I think only humans are capable of hoping. I think hope is closely bound to faith.
I have been in medicine for over 40 years. I have learned that the one thing I must never do is take away someone's hope. Without hope we stop believing something or someone can change, we stop trying to be better or be well, we stop stop striving to succeed, and, in reality, we give up. What a horrible thing it is to be without hope.
With hope, we see the world as something good and our circumstance as something temporary (hopefully – no pun intended). We see possibilities that are not realized at this particular moment, but that can be. Hope keeps us going and going and going. Hope helps our spirits to be cheerful. I think many find 'hope' something they need to hide because we do not find 'hope' as approving as 'faith.' We all know faith is believing even when all hope is lost or all signs of answer is gone, but hope helps us to continue to travel along in life even when we feel we do not have the faith we wish we did. It's almost like a secret weapon to keep encouraging ourselves. Hope actually improves every area of our lives and helps us to try even when things are difficult.
And our hope is not unfounded, but based on the very Word of God. Romans 15.13 reminds us 'Now the God of hope fill you with all joy and peace in believing, that ye may abound in hope, through the power of the Holy Ghost.'
The God of all hope. The God that knows we need hope. The Giver of all good gifts gives us hope. Zechariah 9.12 calls us 'prisoners of hope.' That ye – meaning 'you' if ye didn't get that – may abound in hope. I like that. We have hope. We have God. We can continue on in this life knowing God has given us hope in the midst of any circumstance in our lives, homes, country, or in this unpredictable world.
I pray for you to have love and faith today, but I also pray for you to have hope.
Share your stories with us.