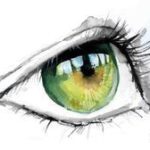 We read to know we're not alone. I am convinced this is true. I know I do.
While reading another writer's posts, I stumbled upon a letter one of his readers sent him. It went:
I got inspired to write a poem about my late big brother. He passed on Christmas of 2017.
"…My brother.
You are gone, but you are not far away.
At the end of each day,
You are my last thought.
You are on the other side of my fear,
Therefore,
I have nothing to fear…"
I appreciate the sentiment in this short, but very sweet poem. My big brother passed in June, 2017. I do not have a poem, but he shared a song with me about 'keeping him in my heart for a while." The truth is I will keep him in my heart forever. Each of us loses ones we love eventually. When we do, we want to know we are not alone and that we will get through the loss.
While reading "The Chosen" by Chaim Potok, he shares this with his son:
'Human beings do not live forever… We live less than the time it takes to blink an eye, if we measure our lives against eternity. So it may be asked what value is there to a human life. There is so much pain in the world. What does it mean to have to suffer so much if our lives are nothing more than the blink of an eye?….I learned a long time ago,…that a blink of an eye in itself is nothing. But the eye that blinks, that is something. A span of life is nothing. But the man who lives that span, he is something. He can fill that tiny span with meaning, so its quality is immeasurable though its quantity may be insignificant…..A man must fill his life with meaning, meaning is not automatically given to life. … A life filled with meaning is worthy of rest…."
It does seem like the blink of an eye that my brothers and my grandparents and the others that I love lived and shared time with me. It seems like a blink of an eye when I was young and sharing moments with my family and friends. Vacationing and having summers off from school. My big brother lived his life to the fullest and enjoyed the big moments in the Florida Keys and the small moments going to lunch and a movie, or eating in and watching TV together. In the blink of an eye, it is gone, but the memories remain. In the blink of an eye, I don't hear his voice any longer, but I remember it. In the blink of an eye, it will be my turn to leave this world. I want to live a life filled with meaning like my brother and other loved ones did and live life to the fullest, like they did. In the blink of an eye, I will be reunited with all the ones I love. In the meantime, I will be with the ones I love here – to the fullest.
Share your stories with us.